#22: On the Eve of this Momentous Event ...
Fall used to be about new clothes, new books and falling leaves. Since moving to California, I've had less money (so no new clothes), there's barely any leaves falling off the trees and since I'm a teacher rather than a student, no new books. But one thing has always remained the same, FALL TELEVISION! Here's what I'm excited for and some things which are going to fall to the wayside.


The CW:
Once again, the CW gets points for starting it's new season a week before the other networks. Given that it's slew of new shows is largely derivative and unoriginal, they need the headstart. I'll definitely be tuning into
Gossip Girl
(Mondays at 9 pm) to see where college brings our cast, and I'm optimistic since creator Josh Schwartz actually anticipated his characters going to college, something most teen shows seem to forget. That being said, other than the draw of the sexy Winchester boys, the CW has pretty much lost me as a viewer. I'm not fired up about the 90210 and Melrose Place reboots and One Tree Hill is pretty lackluster

Next up is FOX: The FOX network is my nemesis. They manage to take the risks that other networks don't by greenlighting interesting shows but they quickly cancel them if they are not break out hits (moment of silence for
even though they've dropped the deadweight of Peyton and Lucas.
Terminator: The Sarah Conner Chronicles
). So I'll be tuning in to the new show

Glee

(this Wednesday at 9 pm) and going for old favorites like the Sunday night cartoon block (
Simpsons, Family Guy
) also
Fringe
and
Bones
which are back-to-back on Thursdays. I'll be watching
House
on a trial basis. At the end of the month on the 25th Joss Whedon's
Dollhouse
reappears to round out my Friday nights.

CBS returns September 14th with
How I Met Your Mother
and
Big Bang Theory
(8 pm and 9 pm, respectively). Then two weeks later
The Amazing Race
and
Cold Case
premiere.

Finally,

ABC

returns with new episodes the week of the 21st, with new episodes of

Castle

a book tie-in). I'll be checking out the new comedy
(which also has
Modern Family
(Wednesdays at 9) which is chock full of stars like Ed O'Neill and Sofia Vergara. Also the J.J. Abrams-helmed
Flash Forward
will begin right before new episodes of
Grey's Anatomy
. And then that Sunday
Brothers & Sisters
returns at 10 pm.

In addition to the return of network television, there's plenty of cable television returning in the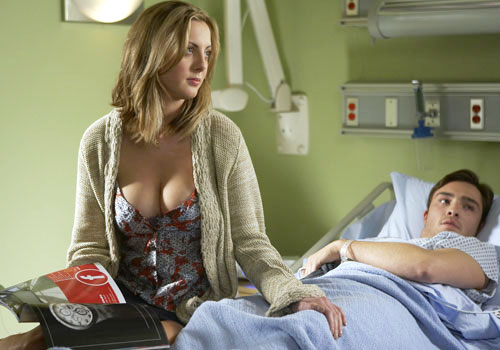 fall. On September 14th,
Lincoln Heights
returns to ABCFamily and
Greek

is two episodes into a new season.

Sons of Anarchy

, a show I fell in love with over this weekend, has its second season premiere tomorrow on FX. Also,

Showtime

premieres new seasons of
Dexter
and
Californication
on the 27th.

Californication

is planning a huge season three with Hank Moody now ensconced in a new position as a college professor and there are plans for Kathleen Turner, Ed Westwick, Eva Amurri, Embeth Davidtz and Diane Farr (who I love from

Roswell

and

Numb3rs

) to guest star.

Other than that, everything is either being ignored or watched on a trial basis. I think I've reached a point where I have enough returning shows and a couple of new shows that I am interested in to fill up my tv schedule. I will try to watch

Vampire Diaries

since I am a fan of the books that inspired the show but from the previews I've seen there's been a massive Twilight-ization of the novels. And the month of October will see the return of

30 Rock

,

Ugly Betty

(also on probation) and

Private Practice

, which has a crazy finale to live up to.