So in times of major financial crisis (

shout out to Lehman Bros!

) I do what any girl who's on the brink of brokedom does ... I window shop, or in my case Windows shop
(It's so much easier and less
tempting to look for stuff on the internet. Honestly, taking the time to fill in all your shipping and credit info is a big deterrent for me)
. For your perusing enjoyment, what I crave:
Vintage Christian Dior sunglasses

from Barney's - So unnecessary and yet so cute. And a "bargain" at only $265.00. Charge it! (To my non-existent Black Card).
Cashmere

from Bluefly.com. Probably the most affordable of my choices if I had any money to spare. I've always thought of cashmere as a very indulgent fabric and I would love indulge when the winter rains hit.
Mental stress may be getting me down but the physical repercussions are worse, I think a trip to Bliss SF is just what I need to get myself back on track. Lately my body has been a mass of aches and sores and the blissage 75 and reflexology sound like the solution. Some kinks you can't work out by yourself.
The

Elsinore Buckle Flats

from Le Train Bleu are another item that won't necessarily break the bank but I can't justify them either. Le Train Bleu is easily one of my favorite sites for shoes and discounted dresses. One day I will have the money (and the justification) to purchase on of their luxe coats.

I have an extensive wishlist at Anthropologie but right now I'd just settle for their Koi blouse.

Dahl by Alison Kelly (one of my favorite Project Runway designers) is a great line with some
highly covetous pieces. One of my favorites is the Melinda top with its knit neckline. Though I wouldn't be ashamed to own the Blossom dress either.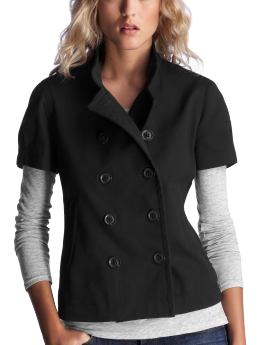 Although I thought I'd left this stage of my life behind, lately I've been drawn to the more structured, slightly preppy clothing of my boarding school days. Following that, my new obsession is this

short-sleeved peacoa

t from the Gap. It has just the right amount of structure with some sexiness and it will go right from the Bay Area's warm fall into its rainy winters.
And finally the biggest thing I covet:

a trip out of this country

. I love America but I could definitely deal with a vacation from it. Points of interest are Italy and Greece though with the current financial craziness (what's up, Bear Stearns?!!) I think I'll take my falling dollar to somewhere a bit more profitable ... Tijuana anyone?