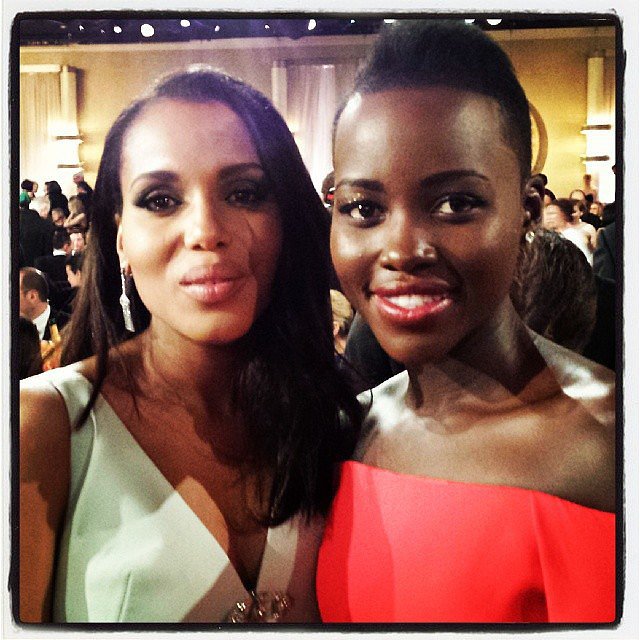 Despite years of evidence to the contrary, people of color went into this year's Golden Globes with excitement and hopeful hearts. This is the year of Black film after all, with movies like
12 Years A Slave
receiving critical accolades and even
The Best Man Holiday
managed to come in second only to Thor 2 in theaters even with its "
race themes
". So imagine the collective outrage when we watched stellar performances by Lupita Nyong'o and Chiwetel Ejiofor go unrecognized. Or watching in dismay as Steve McQueen was overlooked for his direction and John Ridley for his writing. It was disheartening but luckily folks did not walk away with heavy hearts and the media
has been forced to take note
of the l
ack of diversity in both the films
and the Hollywood Foreign Press. Still hindsight is 20/20 and there were signs about how this was going to go down:
1. The best television nominees: Both Andy Samberg and Taylor Schilling were nominated for Golden Globes for their roles on Brooklyn Nine Nine and Orange is the New Black, respectively. This was a big deal as Brooklyn Nine Nine is a relatively new and unknown show and Orange is a Netflix original so it does not have a major network backing it. Furthermore, both shows feature ethnically diverse casts. So that was our first sign. Despite the fact that both shows have received praise for their largely PoC casts, none of those actors were nominated for supporting actor Golden Globes. Arguably, Orange's most memorable characters are Uzo Aduba's Crazy Eyes and Laverne Cox (a trans woman of color) as Sophia Burset. Yet only Schilling was nominated. Even creator Jenji Kohan has been outspoken about wanting Orange is the New Black to be about the Black and Latina women of the prison but knowing that the show would not sell to the industry without a White lead.
2. Chiwetel
& Idris being nominated: I was elated
(elated
!
) to see that both Idris Elba and Chiwetel Ejiofor were both nominated for best actor in the film and television category. Having seen Mandela
! and
12 Years A Slave
as well as the actors' turns in Luther and Dancing on the Edge, I thought, "Yes
! The Hollywood Foreign Press gets it." I figured Chiwetel would win for film and Idris for television because who could deny Idris' morally ambiguous John Luther
(the HFPA and Emmys ate it up for years with Hugh Laurie as House
) and Chiwetel was a revelation as Solomon Northup. All tied up, easy peasy. But of course they were never going to win. Either their performances would split the vote or they were thrown up there as symbols, either way it was a bone we too easily reached for.
3. The Hollywood Foreign Press Association: The past year has been marked by some injection of diversity into the Academy of Motion Picture Arts and Sciences so people have been looking to this year's Oscars and the Golden Globes to show those changes in both the selection and the recipients of these awards. But the HFPA is a much smaller pool. It's comprised of about 90 members and although a bit more diverse in its ranks, it's members are still largely from Europe and also male. Unlike American Hustle, there was nothing sexy about 12 Years'

sex scene where Michael Fassbender rapes Lupita Nyong'o in a scene that feels never-ending. And there's something truly groundbreaking about Steve McQueen's decision as a director to never turn away from that brutality.
At the end of the day, no one is saying that Golden Globes or Oscars or any awards should be given to people of color because they are minorities or because of some perverse affirmative action. What we are saying is that it is

20

1

4 and the gatekeepers are still White and male. The oppurtunities go to those who are mainly White and/or male. And as Rowan Pope said this season on Scandal, we still have to work twice as hard to get half of what actors get. I know acting is subjective. I was moved by Michael B. Jordan's portrayal of Oscar Grant and Naomie Harris' Winnie Mandela as well as Adele Exarchopoulos in Blue is the Warmest Color and none of those actors were even nominated but it's more likely that Adele or Jennifer Lawrence will be at the Golden Globes next year

(whether they are nominated or not

) because they are what we think of when we think of Hollywood, beautiful, White starlets. And despite an audience that is clamoring for diversity and big numbers for television shows and films that are providing that, at the end of the day the industry is still lagging behind. As Alfre Woodard said,
You know when we'll know things have changed? You know that brilliant, stunningly beautiful and poised Lupita Nyong'o?

12 Years A Slave is an incredible launch to a career. And this is her first thing. We will see if [as opposed to] another brilliant actress Jennifer Lawrence, we'll see the trajectory of [Lupita's] career path and what she's offered after that. Then we'll know whether things have changed or if Lupita is consigned to playing a second banana ensemble person for the next ten years.
So far Alfre's words seem like an omen. The ball's in your court Hollywood.